Translucent Plastic Cards
Translucent Plastic BusinessCards are made from a durable semi-transparent plastic with a high quality frosted finish.

Beware of low quality translucent frosted plastic cards used by some other companies.
Because they have a frosted finish, they are not totally clear so they diffuse the light as it passes through. We also have a range of tinted translucent plastic cards to choose from, a photo can be found here
They have always been incredibly popular with our customers and we take as much pride in printing them as you will take in handing them out.
Opting for a clear ink printed on the back produces a lovely subtle watermark effect, adding to the wow factor.
Once you have placed your order we will email a wonderful realistic proof usually within one hour.
Remember, we offer free artwork on all orders. However, if you have your own artwork that you would like us to print please send it to us, artwork guides can be found here to ensure that you have it to the right size and specification.
Free Artwork
We understand that not everyone has the ability to create their own artwork. You need the know how along with the dedicated expensive software and of course lots of time.
Thats where we can help you, by offering a free artwork service.

Plus, if you supply your own artwork, we will check it & fix technical issues (where possible)
When we have created your artwork, we will email a realistic proof to you to approve.
Fast Turnaround
Our standard turnaround time is just 6 working days.
However, if you need them even quicker you can choose our express service and we guarantee to dispatch your order in 4 working days by next day courier.
Unlike a lot of our competitors, we are able to offer incredibly fast turnaround times as we proudly manufacture right here in England
Stunning Metallic Foiled Colours
We have lots of lovely metallic colours. The most popular metallic colour is metallic silver, followed closely by metallic gold.
We also have a very unusual foil, holoprint which refracts the light to create a rainbow effect of colour. When viewed normally it looks like metallic silver but as it is angled in the light all the colours of the rainbow can be seen, similar to how a CD looks as it is angled in the light.
Our full range of colours can be found here including a video showing holoprint.
Clear Ink
We can apply a clear ink on the back to create a subtle watermark type effect.
The effect is extremely subtle and can only be seen when held in the light. The parts of the design that are printed with the clear ink are more transparent than the rest of the translucent plastic.

Translucent Plastic Card Specifications
Our frosted translucent cards are the same size and thickness as a credit or debit card (86 x 54mm and 760 microns thick).

They have rounded corners and are translucent.
Light passes through the cards with a diffused effect.
Tinted Translucent Plastic Cards
They are available with the standard finish or you can choose a
tinted translucent
card.
Full details regarding artwork specifications can be found here
How are they printed?
Each colour is applied to using a very specilised process which uses upto 8 tons of force and temperatures over 200°C.

Typically we print upto 4 ink colours onto our frosted translucent cards. Each colour is individually printed in separate printing passes with incredible precision.

Our top of the range printing machinery is designed specifically for printing plastic cards and our highly efficient work flow allows us to produce the finest quality at affordable prices whilst offering an incredibly fast turnaround.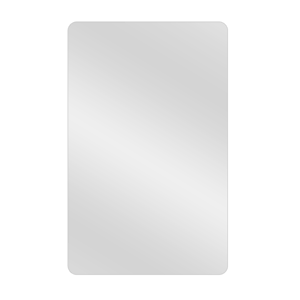 Translucent plastic card video
frosted cards
a frosted card printed with holoprint and clear foil.
Our translucent plastic business cards are also referred to as: clear plastic or clear business, translucent or transparent or see through plastic cards
The frosted plastic is very high quality and you will find our prices are a lot lower than our competitors plus along with low prices we also offer very fast turnaround times. They are popular due to their modern and professional image which results in them having instant impact to your prospective customers.
They can be printed with up to four ink colours per side but simple designs with just one or two ink colours can look stunning.
You can email your artwork to us at sales@cpcards.co.uk, for full details regarding sending us your artwork see our artwork guidance page.
If you are after for a modern looking see through business card that is a bit different then our these are ideal for you. They are 760 microns thick and are semi transparent with a frosted finish.
We are a leading UK company that has manufactured these stunning cards for many years and they continue to impress people time after time.
Our frosted cards can be printed in a wide range of gloss or metallic colours, also available is holoprint which reflects all the colours of the rainbow - it has to be seen to be believed - an example can be found here.
We can print upto 4 ink colours, on one or both sides. Each colour is printed individually (like spot colour printing as known in the trade), it is not possible to print shading or halftones/gradients, very small fine/intricate detail can be lost due to filling-in when printed and large areas of print coverage are also not available.